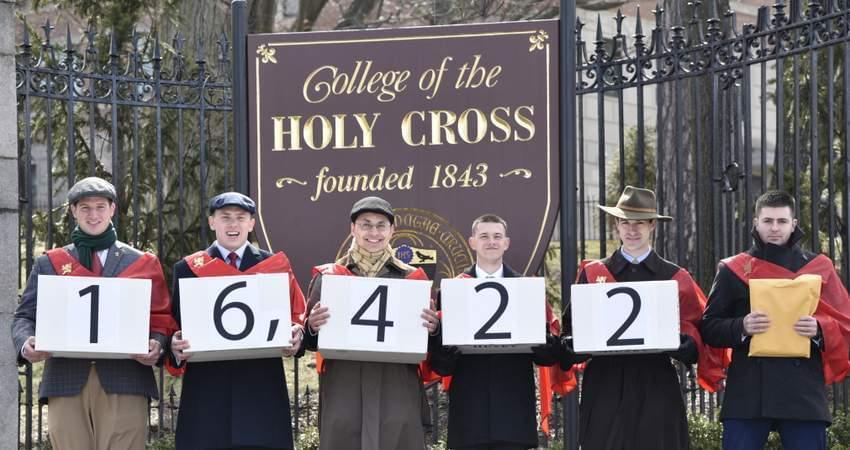 Jesuit Campus Allows Pride Flags but Not Catholic Morality, Student Reports
What is the moral climate of a Jesuit campus? Not what you might expect. A sophomore at the Jesuit-run College of the Holy Cross in Worcester, Mass., sent TFP Student Action a first-hand report about the challenges he faces as a faithful Catholic student.
For the sake of this post, we'll call him Joseph because he requested to remain anonymous to avoid reprisals.
Joseph recently received an email from the Office of Multicultural Education inviting him to a book club meeting. Right away, alarm bells went off. The book selected for the month of March is Unapologetic: A Black, Queer, and Feminist Mandate for Radical Movements by lesbian and BLM activist Charlene A. Carruthers.
"This book club," the invitation reads, "will challenge all of us engaged or looking to engage in the social justice struggle to make the movement for Black liberation more radical, more queer, and more feminist." Moreover, "active participation" is required.
Joseph explains how moral values are no longer welcome at Holy Cross. His report reveals how deep the crisis of faith has become. To keep the faith intact on a campus that purports to be Catholic demands heroic fidelity. It also prompts us to pray for students like Joseph who are fighting the good fight despite the apostasy that surrounds them.
Read what Joseph has to say.
TFP Student Action: As a Catholic student on a Catholic campus, were you surprised to receive an invitation that promotes anti-Catholic ideas?
Joseph: I was not surprised to receive the invitation. Before the first semester even began, I received emails from the College's Office of Multicultural Education inviting all students to participate in a virtual rally for "Pride Month." I have received dozens of emails from the same office over the course of a year inviting the student body to these events. Buildings all over campus, including Campus Ministry, even fly the so-called pride flags.
College of the Holy Cross has gotten to the point that it is Catholic-in-name-only. It has lost sight of the truth that homosexuality and homosexual activism are harmful. It creates and spreads a culture contrary to our Catholic faith and morals and in contravention to the natural law.
TFP: Why do you think Holy Cross is lending itself to serve as a platform for ideas that foment Marxist class struggle, feminism, and homosexuality?
Joseph: Holy Cross, like many other Catholic schools, has opted to adapt to the times in contravention to Catholic orthodoxy. An irresponsible and consistent lack of oversight allowed dangerous liberal and anti-Catholic views to foment, perhaps irreversibly so. Moral relativism and permissiveness grow in Catholic and secular institutions, not unlike a cancerous tumor. The goal of every Catholic school, whether elementary or college-level, is to provide a strong foundation that will put students on the path to holiness. The College has denied students a genuine Catholic intellectual experience.
In league with other prominent Jesuit colleges such as Georgetown University and Boston College, Holy Cross has surrendered to Leftist academia. Leftist academia wants nothing less than the destruction of an ordered and hierarchical society in favor of unrestricted relativism and "tolerance." The Jesuit Community at Holy Cross, emboldened by prominent modernists such as Father James Martin, S.J., have "drank the kool aid."
TFP: Are traditional Catholic morals welcome at Holy Cross anymore?
Joseph: There are small but withdrawn and quiet groups of traditional Catholic students at Holy Cross. The College affords traditional Catholics very few legitimate platforms and privileges. At the same time, pro-LGBT and anti-Catholic activists are given a nearly unconditional license to be aggressive and hostile to any opposition.
In 2018, Prof. Tat-Siong Benny Liew horrifically blasphemed Our Lord with the vilest of claims (claims that I am too disgusted to repeat). The College and the Jesuit Community defended the professor and refused to take action.
Just a year later, in 2019, Bishop Robert McManus spoke at the College regarding the horrifying and self-destructive reality of transgenderism.
This type of double standard is typical. The few Jesuits and handful of traditional Catholic professors are too quiet to be noticed. I would say that traditional Catholic morals are absolutely not welcome at Holy Cross.
TFP: Do you have any final thoughts?
Joseph: The Society of Jesus was fundamental in the evangelization of our Catholic faith to Africa, Asia, and the Americas. They acted as a strong bulwark against Reformation-era heresies and were fundamental to the Counter-Reformation. Even just a little under a hundred years ago, Jesuits were being martyred in Mexico and other places for standing up for our faith's inherent and objective truths.
The Society of Jesus today does not even come close to resembling what it once was. An ideology of pro-homosexuality, weakness on abortion, and disdain for tradition have become normative for the religious order. Jesuit institutions such as Holy Cross have been infiltrated by western moral relativism and permissiveness in contradiction to our faith. I certainly can't imagine that Saint Ignatius of Loyola, a man with a stern military background and astute hatred for sin, would have ever allowed such ill designing disorder to gain a foothold. We must continue to put our trust in the Lord and combat evil wherever it may hide.
Contact information (Please be polite yet firm)
Rev. Philip L. Boroughs, S.J.
President, College of the Holy Cross
Fenwick Hall 119
P.O. Box PRES
Worcester, Mass. 01610-2395
Phone: 508-793-2525
Fax: 508-793-2347
Email: [email protected]