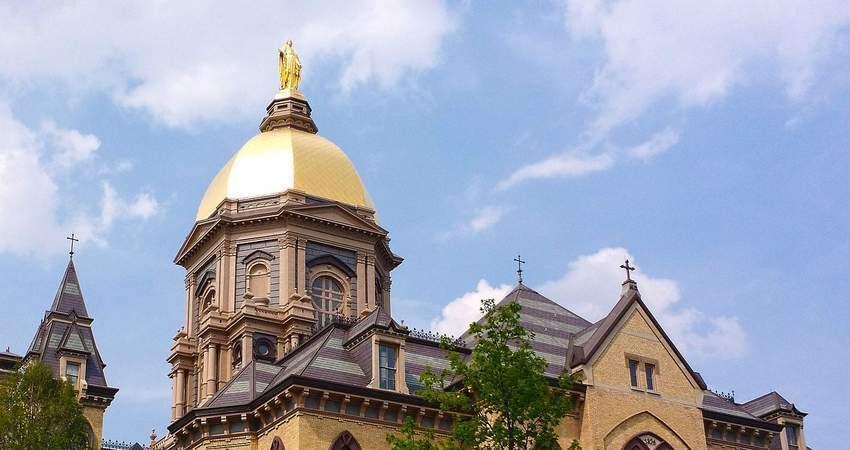 Notre Dame Divided: Catholic Students vs. Drag Show on Campus
"A woman shall not wear a man's garment, nor shall a man put on a woman's clothing; for anyone who does such things is an abomination to the Lord, your God" (Deut. 22:5).
Catholic students took a stand against a scandalous drag show at the University of Notre Dame on November 3, 2023. Young volunteers with the American Society for the Defense of Tradition, Family, and Property (TFP) joined alumni and students for a prayerful protest outside the DeBartolo Performing Arts Center as the immoral drag show took place.
Two separate groups assembled. On one side, a group of pro-homosexual students chanted, "God is a woman!" as they mocked the Faith. Standing a few steps away was a throng of Catholic students who prayed to Saint Michael and recited the Holy Rosary of the Blessed Virgin Mary.
Betrayal of Catholic Truth
Notre Dame's lifeblood came from the missionary zeal of the Holy Cross Fathers, who spent themselves for the glory of God and the salvation of souls.
But Notre Dame, founded in 1842, has betrayed its Catholic mission. The campus dedicated to Our Lady sponsored an immoral drag show featuring sexually charged cross-dressers performing in ways that violate God's natural order. Hiding behind "academic freedom," Notre Dame professor Pam Wojcik was permitted to teach a class called "What a Drag: Drag on Screen — Variations and Meanings." The program culminated with a symposium that concluded with a drag show.
When news of the perverse performance reached fervent Catholic students, many were inspired to defend the honor of Our Lady's university with a peaceful protest. Notre Dame seniors Madelyn Stout and Merlot Fogarty courageously lead the way. Several urged Fr. Gerry Olinger, vice president of student affairs, to stop the drag show, but the priest insisted it would go on.
TFP Student Action was invited to attend the protest and quickly organized a van load of volunteers who traveled from Pennsylvania to Indiana to support the courageous students.
Nearly 150 Catholic students gathered. They prayed the Holy Rosary and sang hymns honoring Our Lady that echoed across campus.
However, pro-LGBT students responded with blasphemy and vulgarity. As they mocked the rosary and attacked what is sacred, they illogically shouted, "Love thy neighbor!"
The Catholics remained steadfast. One young man's sign read, "Drag Does Not 'Pursue Truth,'" a reference to the university's mission to pursue the truth. "The founder of Notre Dame would roll over in his grave if he could see what is happening now," said one lady.
Another young Catholic displayed a sign: "Our Lady hates impurity."
Growing Reaction
The protest at Notre Dame shows that there is a growing reaction. Young Catholics would like to see university officials foster Catholic morality rather than undermine it with drag shows and pro-homosexual events. Rejecting the hook-up culture that is rife with lust and immorality, more and more students are taking a stand for holy purity.
Restoring Christian civilization in America is an arduous mission, but all things are possible with God. We can expect the best results if we fight the good fight under the pure banner of the Immaculate Heart of Mary.