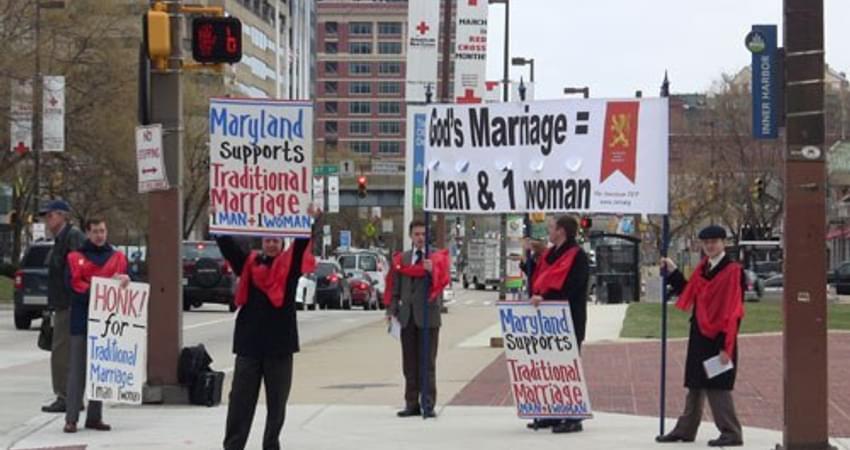 Traditional Marriage Tour Stops in Baltimore
Despite the cold and dreary weather, TFP Student Action volunteers visited several locations around Maryland today to defend traditional marriage.
The caravan's first stop, along Pratt Street, in downtown Baltimore, received a good amount of support, from both pedestrians and motor traffic. Although a few passers by shouted insults and profanities, the response was overwhelmingly positive.
For phase two of today's campaign, TFP volunteers divided into several groups, each taking a large stack of fliers, 10 Reasons Why Homosexual "Marriage" Is Harmful.
Each group went to a different downtown Catholic Church, to receive the Ash Wednesday ashes. At St. Alphonsus Church, the response was especially positive. With only a few exceptions, every person leaving the church received a flier. Many people enthusiastically expressed their support for the campaign, as well as their gratitude for the public defense of God's marriage being done by the caravan.
After we finished distributing fliers, the Deacon from the church approached us. He thanked us repeatedly for our work and asked for a stack of fliers to distribute at the evening Mass.
Outside the Basilica, the first Cathedral in America, hundreds of fliers were distributed on the sidewalk, encouraging Catholics who had just received ashes to protect marriage. Not everyone was happy though. One man, for example, with ashes on his forehead, ripped up the flier in disgust. A few blocks away, the reception of the flier at St. Jude's Shrine was also very positive.
Record Honks in Reisterstown
The next stop was Reisterstown, where two very well-received street campaigns were conducted. At our second stop, the honking was so constant and animated that we had difficulty in speaking with one another. Even when we all joined in singing St. Louis de Montfort's hymn, We Want God, we were still unable to hear each other over the honking.

"Thank you! Here's some gas money," said a lady who handed us a generous donation as we stood at the intersection. "I saw you park your van, and recognized your group. I am a Rosary Rally captain," she said. Thank God, many generous souls have stepped forward to help us continue this challenging tour.
Please continue to pray for us, and for the victory of God's marriage in Maryland.