Tour for Traditional Marriage Wraps up with Great Success
In high spirits from Friday's victory in Maryland, TFP Student Action volunteers set out Saturday morning to defend traditional marriage. Our first stop was Pratt Street, downtown Baltimore. Inspired by Friday's victory, supporters of traditional marriage were extremely enthusiastic in their honking, some even cheered as they passed.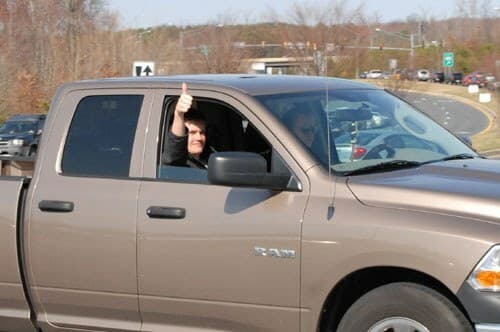 Soda Incident
Our next stop was Arundel Mills Mall, the same location where TFP volunteer Mr. Oliver Plunkett was assaulted earlier.

Our campaign was soon interrupted by the first attack of the day. A man approached from behind and sprayed us with a two-liter bottle of diet soda, and then sprinted away as fast as he could run. Everyone holding the banner got sprayed pretty badly. Mr. Alexander McKay got hit the worst and soda ran down his neck and overcoat. Not pleasant.

"I heard you got sprayed," said a police officer who pulled up to the intersection. "What did he look like and where did he go?" A passing motorist, seeing this display of "tolerance," was outraged, and had called the police. After obtaining a description of the individual, the policeman departed to search the area. Apparently the man was seen hiding in a nearby ditch, out of breath, and was confronted by a couple who were suspicious of his strange behavior.

Our final campaign in Maryland took place in Timonium. It was excellent. At this location, we had a counter-protester and another soda incident: a pro-homosexual man in a passing car threw a soft drink at Mr. William Stover. Fortunately, it missed by a few inches.
Bagpiper Joins the Campaign
"Today is our 40th wedding anniversary," said a lady who was so happy to see the campaign. "My husband and I just renewed our marriage vows at St. Joseph's. Thank you so much for doing this," she said. "We're going to Annapolis on Monday to oppose abortion. God bless you!"

Something unusual also happened. A gentleman who happened to be passing through noticed our TFP bagpiper Mr. Charles Sulzen. He pulled over and exited his vehicle with a set of bagpipes. "You mind if I join you?" he asked. In a few minutes, not one but two pipers piped away for traditional marriage.

Please keep the caravan in your prayers as we prepare to continue the campaigns in other states where traditional marriage is under attack.