Tour for Traditional Marriage Reaches Syracuse
After campaigning for traditional marriage in Binghamton, we moved north to Syracuse, our next destination. The honking and support ratio at the intersections was good, but middle-of-the-road indifference was noticeable as well, while those who oppose God's law were brazen, vocal and vulgar.
"I (expletive) hate you. You have no right to stand here," yelled a woman from a moving car. It wasn't the first time we were told that freedom of speech doesn't count for those who affirm the reality of marriage between one man and one woman. Somehow, our free speech is less free. Moments later, another passing driver hurled a Dunkin Donuts cup at us in a vain attempt to discourage us. No harm done.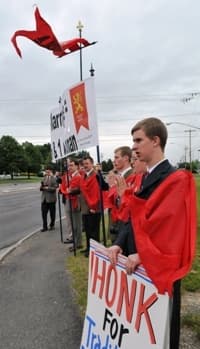 "You're with TFP, right?" inquired a young man who pulled off the road to greet us. "I get your email updates and really appreciate what you're doing." Getting back into his car, he pulled away from the intersection, honking his support for traditional marriage in response to our signs.
We are most grateful to all the kind souls who have helped us with meals and gas money. Their generosity is allowing us to fight this good fight.
God bless them.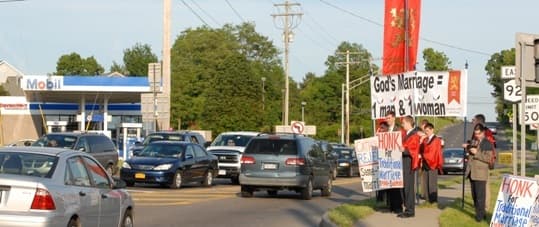 TFP members rally support for traditional marriage in Syracuse, NY.