Socialism Challenged at Shippensburg University
Amid finals week at Shippensburg University, a group of TFP Student Action volunteers showed up on campus to campaign against socialism, an evil which is rooting itself on college campuses across the country.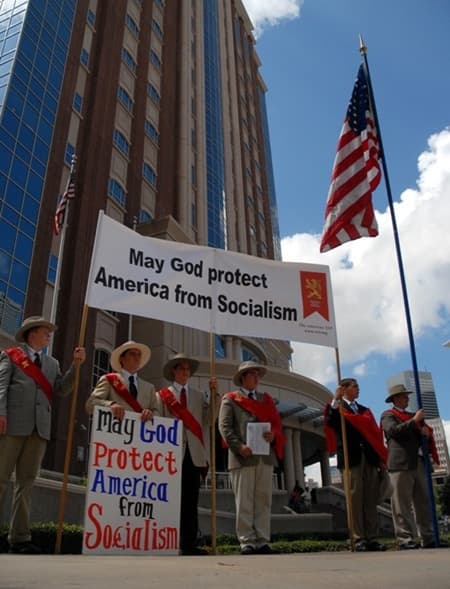 Distributing the "10 Reasons to Reject Socialism" flier, the young men of TFP would catch the attention of passing students by saying, "Keep America strong. Defend freedom, defend private property… reject socialism."
In spite of the grogginess that naturally accompanies final exams, many of the Shippensburg students were more than willing to accept and even read the fliers – a stark contrast to what is encountered on many other campuses today. This naturally led to lively, thought productive discussions between the students and volunteers.
"I was reading your flier during lunch," said one student to a campaigner, "What do these moral issues you mention have to do with anything?"
"Well, you see, socialism is a system that erodes the human aspect of society. We don't need a bureaucratic society – we need a society based on virtue an honor."
Many students were in solidarity with TFP Student Action's rejection of socialism, but were curious about elements of the campaign. Our volunteers took this opportunity to answer their questions, and explain the idea of an organic Christian society (a central theme of the book Return to Order).

"I agree with everything on this flier, but why are you guys wearing red?" one man asked.

"The reason why we red is because it catches your attention. The fact that you asked proves its effectiveness. The color red symbolizes our willingness to sacrifice for higher ideal. Plus, in the world we live in today, people are so engrossed in their smart phones that it really takes a lot to get people engaged with what's happening in front of them."
Towards the end of the campaign, a group of about eight students from the university were discussing the topics of socialism and organic society with the volunteers. Although not all of them were in complete agreement, every one of them thanked the volunteers not only for their courtesy, but also being able to have an intelligent discourse – something that is becoming rare in the modern world.
However, not everyone was interested in the rational exchange of ideas.
One woman, who identified herself as a professor by the name of Margaret, sent TFP Student Action the following email after the campaigned had finished:

When Margaret was asked to explain what specific "lies and filth" she might be referring to, she responded with 19 messages containing vulgarity and personal attacks.
So much for that liberal "dialogue" and "tolerance" we're told so much about these days. However, aside from the one bad apple, the campaign was an overall success and most of the students were supportive of the efforts of the TFP volunteers.