Opposing Same-Sex "Marriage" in Annapolis, Maryland
Undaunted by the brisk and chilly morning air, TFP Student Action volunteers set out early Tuesday morning ready to defend God's marriage. Determined to protect marriage from radical redefinition, we took our campaign directly to the Maryland State House.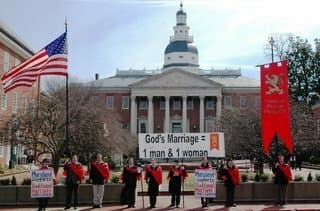 The presence of the poles on which our flag, banner and standard were mounted, however, were deemed a safety hazard, and the police ordered us to take them down. Not discouraged, we removed the banner from the poles and held it at street level. This failed to satisfy the police and we were ordered to back away from the street. Despite these minor setbacks the campaign was met with great enthusiasm and support from pedestrians and motor traffic.

Radio and television journalists recorded and filmed our rally.
"I can't get any work done in my office," said a lady who heard the cheerful bagpipes and the constant honking for traditional marriage on the street. She pointed to her office window in the senate chamber: "That's my window." Well, it was just hard to ignore the campaign.

Where are the Catholics?
Midway through the campaign, several Delegates from the State House approached us, and thanked us for our presence and our campaign. One delegate remarked: "You are my heroes! We've been getting emails, but we need to see people. This is great. You are making a difference. Come back more often, every day if possible."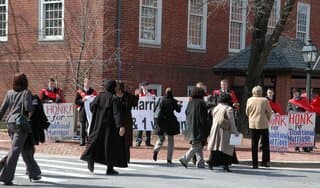 Another delegate was upset with the silence of many Catholic pastors. "Catholic pastors should be covering their heads in shame for not getting the people out. There should be at least 1,000 people out here with you." He is right. What makes matters worse is the fact that the governor of Maryland and other state politicians who claim to be Catholic support same-sex "marriage." Does the word "excommunication" come to mind?

On Connecticut Avenue
After stopping for lunch, the caravan was back on the road. Our second stop: A busy intersection on Connecticut Ave., north of Washington, D.C. in Montgomery County. Although we received a good amount of honks from passing traffic in this liberal neighborhood, the vitriolic hatred displayed by the proponents of "tolerance" was the most notable aspect of the campaign.
Even elderly women made obscene gestures. And, even more shocking was the sight of children as young as 9 or 10 exhibiting similar behavior, after the example of their parents. One passing motorist screamed to TFP volunteer Mr. Oliver Plunkett: "I hope you all get hit by cars!"
(Honk, honk, honk)
"Finally, people who agree with me!" shouted a man from his car, delighted to see us. "I can't believe it. The world is going crazy." His enthusiasm was contagious and other cars chimed in: Honk, honk, honk.
Please keep the caravan in your prayers, as we continue our campaign all over Maryland, in defense of Natural Law, and God's marriage.