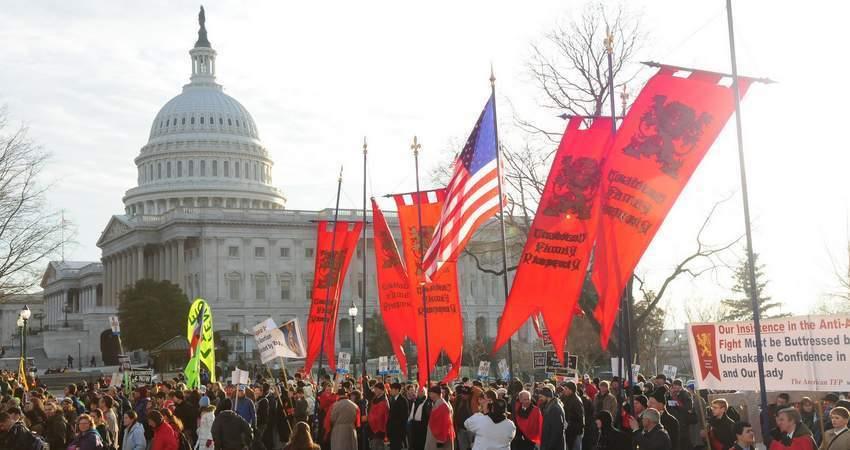 TFP Joins Multiple Marches Against Abortion Across America
During January and February 2022, The American Society for the Defense of Tradition, Family, and Property (TFP) joined marches across America to defend the unborn.
Pro-abortion forces fear, and the pro-life movement anticipates that the U.S. Supreme Court will dismantle Roe V. Wade in 2022. Bolstered by this possibility, pro-lifers marched in numerous cities from coast to coast. In Washington, D.C., an estimated 100,000 pro-lifers were present, in St. Augustine, Florida, 2,000, and in Austin, Texas, about 5,000.
TFP volunteers were honored to join marches against abortion in:
Washington, D.C. March for Life
Baton Rouge and Alexandria, Louisiana
St. Augustine and St. Petersburg, Florida
Austin, Dallas and El Paso, Texas
Rockford, Illinois
San Francisco, California Walk for Life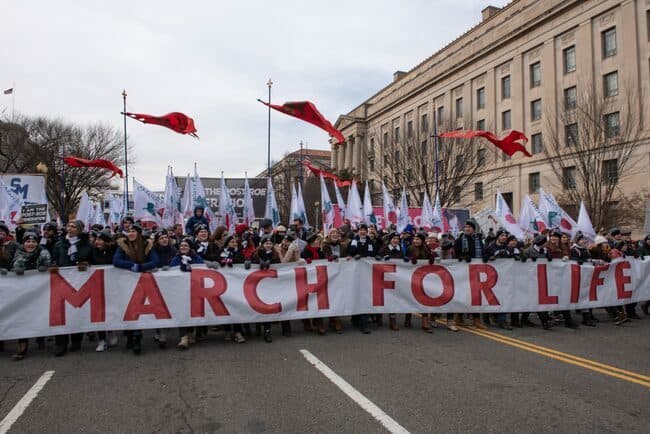 Washington, D.C. March for Life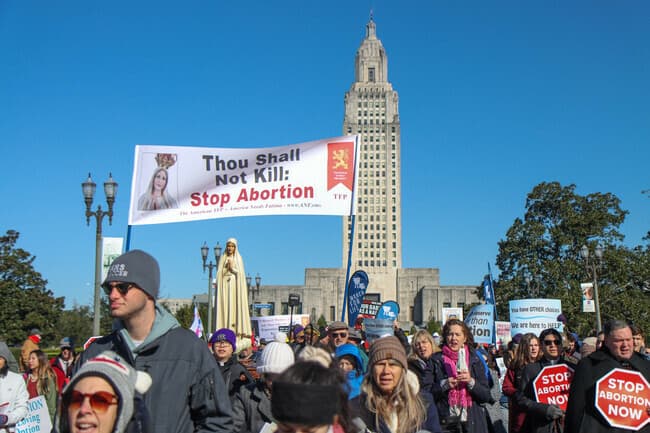 Baton Rouge, Louisiana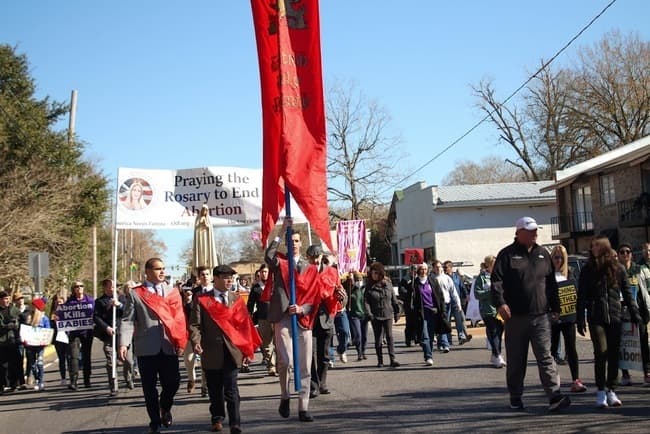 Alexandria, Louisiana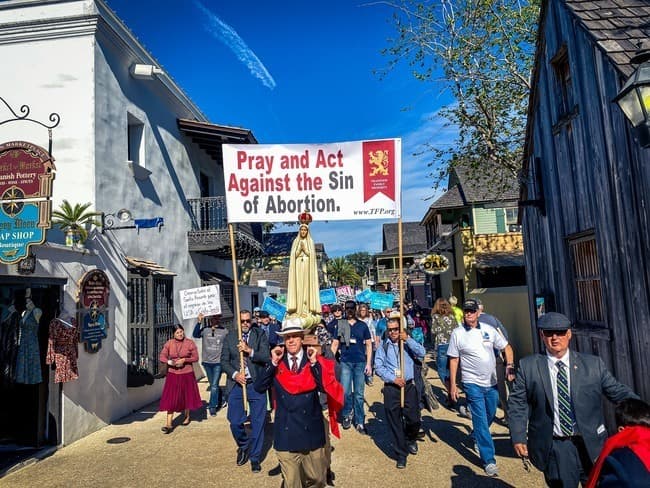 St. Augustine, Florida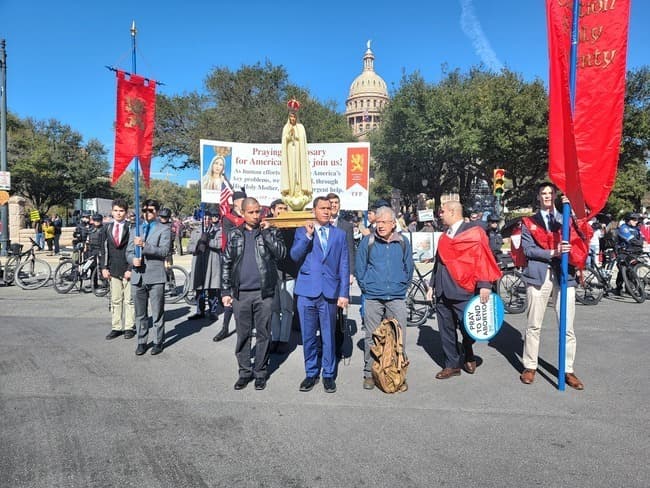 Austin, Texas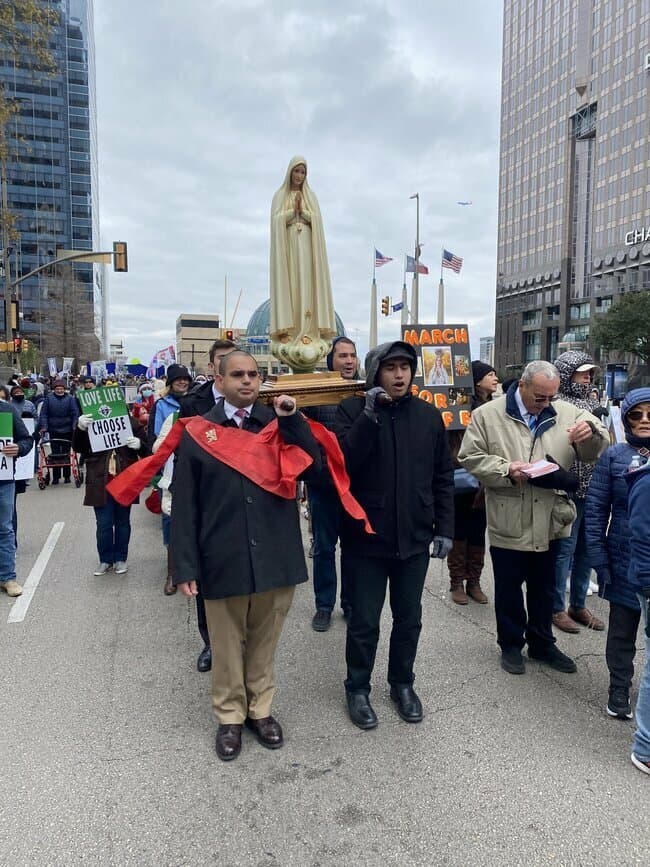 Dallas, Texas

Rockford, Illinois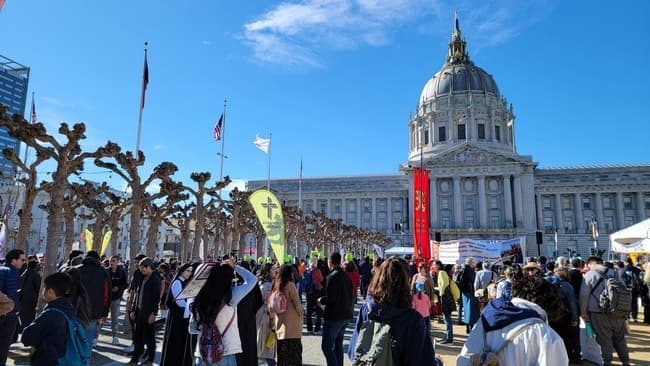 San Francisco, California Walk for Life
Our Lady at the Marches
In Florida, the statue of Our Lady of Fatima made a profound impression. A TFP volunteer recounted meeting a lost couple looking for directions on a map, oblivious that the statue of Our Lady was coming their way. When Our Lady passed, the wife suddenly looked up, and her jaw dropped. She signaled to her husband, who reverently removed his hat.
In Austin, Texas, the statue of Our Lady carried by TFP volunteers attracted admirers who joined the recitation of the rosary, including a group of Dominican sisters. "Thank you for the work you do for the Church," said one with gratitude.
Towards a Post-Roe America
At these marches, TFP Student Action members handed out thousands of flyers, What is Our Dream For a Post-Roe America?
"We cannot rest until all fifty states are freed from this moral scourge that stains the nation's honor," the TFP flyer explains. "A return to order, morality, and God by a post-Roe America will not come by imposing a set of rules (as the left does). It must come by conversion."
The Fight Is Not Over
Those who oppose God's law are retreating as good souls rise up. We must, however, not be content with partial victories but continue to fight until abortion is eradicated from every state. Human efforts alone won't suffice for the upcoming battles. Therefore, we must trust in God and press forward to make abortion unthinkable in post-Roe America.