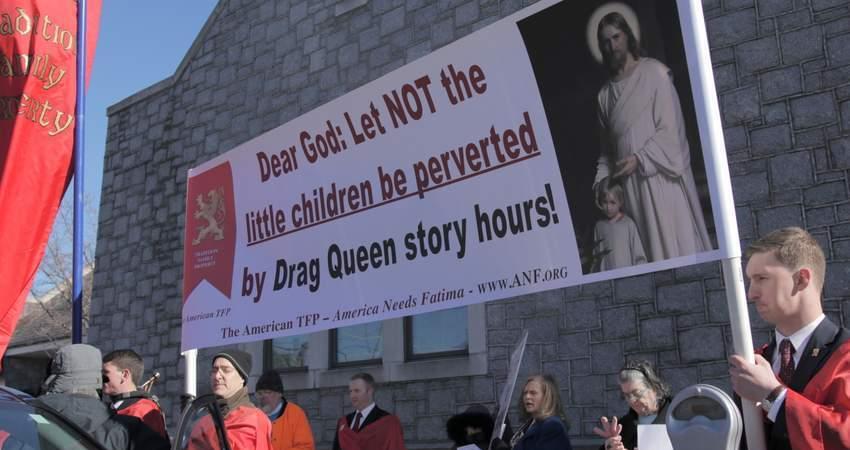 Why did Protestant Pastors and Communists Join a Drag Queen Story Hour?
On Sunday, February 20, 2022, the Young Women's Christian Association (YWCA) of Hanover, Pennsylvania, hosted a pro-homosexual Drag Queen Story Hour for children as young as four.
To defend the innocence of our children, two local Rosary Rally captains for America Needs Fatima quickly organized two peaceful protests, which TFP Student Action volunteers were happy to join. In all, about 45 concerned Catholics prayerfully took a stand against the perversion that is Drag Queen Story Hour.
Watch:
[STOP Transgender "Drag Queen Story Hour" for 3 Year-Olds in Public Libraries]

LGBT Vulgarity vs. Catholic Morality
However, a similar number of counter-protesters draped in rainbow and transgender flags stood in front of the YWCA building, facing the Catholics across the street. A wide assortment of people gathered under the rainbow flag of sin: Lutheran pastors mingled with communists, pro-aborts, and satanists.
The Lutheran church nearby announced its affiliation with the homosexual movement by draping multiple rainbow flags on its doors and banister.
Some pro-homosexual signs reprinted the typical sophisms of "Love is love" and "Equality." However, some signs were blasphemous. One woman with dyed hair and face piercings held up a cardboard cross with "Jesus loves trans kids" drawn on it and a rainbow facemask tied to the top of the cross. Other signs said, "Time for Revolution," and "Green Party." One mother made her child, who appeared to be five years old, hold a pro-homosexual sign. These signs contrasted with those of the Catholics that read, "Dear God: Let not the little children be perverted by Drag Queen Story Hours."
Catholic Enthusiasm
The Catholics prayed the rosary, several litanies, and sang Marian hymns. TFP volunteers accompanied the singing by playing bagpipes. To block the Catholics, one pro-homosexual man parked his truck, mounted with a large rainbow flag, in front of them. Another "pride" advocate set up a loudspeaker and blared pro-sodomy songs. However, the stirring tunes of the bagpipes confronted the vulgar music.
The rosary rally captains and attendees expressed gratitude for TFP Student Action's participation. As one prayer warrior put it, "Their [the bagpipers] music really neutralized the boom-box tactic of the LGBTQ-ers and honestly left some of the people on that side of the street a bit open-mouthed. It was the last thing they were expecting."
Another added: "It was absolutely wonderful to have the TFP participants. I am still in awe to be in the presence of such young men standing for Our Lady. They were true men of Mary on the front lines."
A young Catholic at the protest said: "I am not prone to emotion, but when the TFP arrived, I almost cried."
Different Revolutions Join Hands
Several protestant pastors wearing clerical collars joined the LGBT counter-protest. TFP Student Action director, John Ritchie, approached one of the pastors and confronted him. "If you love God, follow His commandments." The pastor surrounded by LGBT activists dodged the issue and attacked the "P" of TFP, that is, property. "You need take property off your banner," he insisted. "You sound like a communist because communism can be summarized as the destruction of private property," said John Ritchie. "And you should know that two of the Ten Commandments defend property – don't steal and don't covet they neighbor's goods." The pastor was quick to say, "I'm not communist." But a man holding a rainbow flag next to him chimed in: "I am a communist."
Then John Ritchie addressed the crowd: "It's obvious that you all are pro-homosexual, but I'm curious to know where you stand on abortion. Raise your hand if you are against abortion." Silence followed. No hands went up. "Not one hand, not even one finger." More silence.
Finally, the "pastor" said, "I am [against abortion] but I support Roe vs. Wade." Caught in his own contradiction, he accused TFP volunteers of being judgmental and not real Christians, calling them blasphemers. The "pastor" told his followers to leave the area.
Overlooking the LGBT crowd from the window of a nearby building was a flag depicting the goat face of Baphomet. These incidents show how the different revolutions (Protestantism personified by Luther's revolt, egalitarianism, communism, socialism, the sexual revolution, the LGBT movement, and satanism) unite to form a single front against morality, the Catholic Church and Christian civilization.
"Tolerance": A One Way Street
Two aggressive incidents should be mentioned. After the drag queen event ended, the man who had parked his truck in front of the protest got in the vehicle and backed it up so that the rear end was facing the TFP volunteers. He then revved the engine and peeled out. Acrid fumes and smoke made the TFP members cough, and some were hit by pieces of asphalt projected by the spinning tires. When the sodomy supporters saw this, they cackled with amusement. TFP volunteer Mathew Miller, who was hit with some asphalt, silenced their laughter by asking, "Is this tolerance!?"
Another TFP volunteer, Jon Paul Fabrizio, described how he saw a man on a motorcycle swerve out of his normal traffic lane and speed up as he aimed his motorcycle at him. At the last second, the motorcycle driver swerved away, just missing the TFP members. He made an obscene gesture as he passed, and his motorcycle was covered in LGBT propaganda. "I thought he was going to run me over," said Jon Paul.
The Revolution is One
The sight was odd. Those who showed up to promote the Drag Queen Story Hour were from varying backgrounds and religions. Why do pastors, communists, pro-aborts, environmentalists, and satanists join forces to promote the LGBT agenda?
According to Prof. Plinio Correa de Oliveira, the founder of the first TFP, the current crisis, as described in his book Revolution and Counterrevolution, is part of a more extensive historical process of revolt against God. Just as a forest fire is not comprised of thousands of isolated individual trees on fire but the merging of a larger fire, the crisis we witness today is not merely individual events but one process, one Revolution with a capital R.
This reality was demonstrated on the sidewalk that Sunday afternoon.