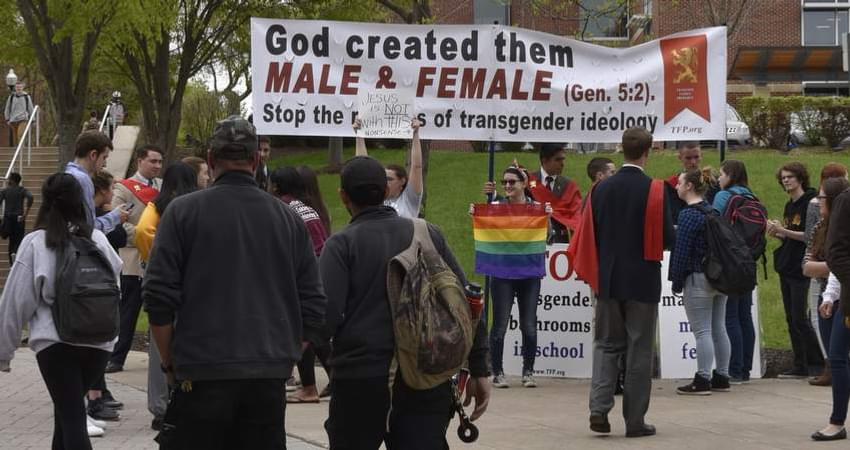 State University Punishes Student for Saying 'a Man is Not a Woman'
Owen Stevens, a student of education at the State University of New York (SUNY) at Geneseo was suspended from participation in his degree program because of a video he posted on his private Instagram account, saying:
"A man is a man and a woman is a woman," Stevens said in a short video.
"A woman is not a man and a man is not a woman."
After the video was noticed by pro-transgender students, the University told Stevens that he was incapable of providing a sympathetic atmosphere that takes into account the mental and emotional well-being of his future students.
According to The Daily Wire, Stevens was given the choice between suspension or "re-education training."
-- Click Here to STOP Extreme Transgender Tyranny on This New York Campus

In a campus wide email, the university's president wrote: "Yesterday, I was made aware of a current student's Instagram posts pertaining to transgender people, I want to take this opportunity to publicly restate my deep personal commitment to promoting social justice."
"There are clear legal limitations to what a public university can do in response to objectionable speech," continued the president. "As a result, there are few tools at our disposal to reduce the pain that such speech may cause."
Why is basic truth forbidden on campus? Isn't the university a place where the truth ought to be discussed, discovered and internalized? Shouldn't higher learning involve the understanding of objective, universal, and unchanging reality?
In the case of SUNY's persecution of Stevens, not only is the truth denied a trial, a lawyer, a jury, or even a place in the witness stand, but access into the very courtroom itself. The truth is expelled from the minds of those who might want to consider it.
To say that someone is unqualified to teach students because he believes that "a man is a man" is a self-destructive statement for any educational institution because teaching by its very nature is the act of introducing students to truth.
What happened to Owen Stevens, however, is not merely an attack on truth, or on free speech, it is an attack against reality itself. The first thing we learn about reality is that something is distinct from something else. Men and woman, for example, are distinct from each other. To assert otherwise is the pinnacle of irrationality, which, if followed by an entire society, could lead to a sort of collective and deliberate suicide of reason, a voluntary leap into nothingness.
Because of the new dictatorship of cancel culture, we should all the more be devoted to the truth, its pursuit, its contemplation and love its beauty and forever seek to be united with God, its creator.
If we truly have this love, this unity, this passionate devotion for truth, justice and reality, then it will guide us on the spiritual battlefield, illuminate our minds, strengthen us when we are weak and lead us to victory, provided we say yes to it, stand with it, and defend it to the last. What we have to win is infinitely greater than anything we could lose.
So take a stand. Join the fight for the Truth.

Click Here to Help STOP Transgender Tyranny on This New York Campus
Veritas liberat!