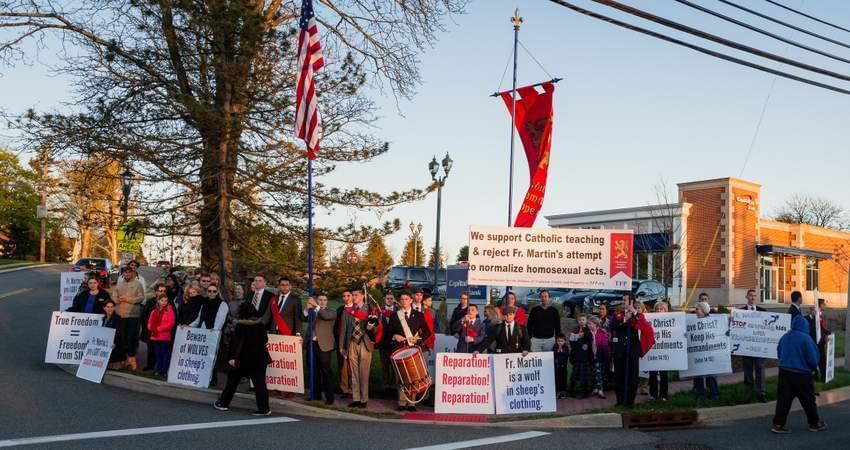 Catholics Protest 'Rainbow' Jesuit in New Jersey
At 6 p.m. on April 26, a group of faithful Catholics gathered in Wyckoff, New Jersey to protest a parish program featuring the Jesuit priest, Fr. James Martin.
Fr. Martin is known as the "rainbow" Jesuit because of his promotion of the homosexual agenda. He spoke by Zoom video call to a group of parishioners at St. Elizabeth of Hungary Catholic Church in Wyckoff.
While the talk was in progress, over 50 faithful Catholics gathered outside the Church to pray the Rosary in an act of reparation for the event.
TFP Student Action volunteers joined local Catholics for a protest with a banner, American flag, and signs saying, "Father Martin is a wolf in sheep's clothing" and "Love God, hate sin."
A man found the rally very refreshing, saying, "Finally, some Catholics that fight." Another man pulled up at the intersection: "Deus vult, Deus vult, Deus vult!" he said, repeating the Crusader's cry meaning, "God wills it!"
One woman disagreed with the rally for Catholic morals. As she filmed the event with her phone, she yelled hysterically "I love Christ! I have homosexual friends who would cry if they saw this! God loves us all! He loves straight and homosexual people."
The rally touched many hearts, as some drivers made the Sign of the Cross. Another lady tearfully thanked the young TFP men.
The event at a Catholic parish openly hosting a speaker who undermines God's law shows the mind-boggling extent of the crisis inside the Church.
Fr. Martin posted a tweet seen by his 299,000 followers that approved of a sacrilegious rendition of the icon of Our Lady of Czestochowa with pro-homosexual rainbow-colored halos.
The desecrated icon was originally created by radical LGBT activists in Poland. Pro-abortion and pro-homosexual activist Elzbieta Podlesna put up copies of the outrageous icon around St. Dominic's Church in Plock, Poland. The same pro-abortion mobs that stormed Catholic Churches and vandalized saints' statues after the Polish government restricted access to abortion last year, also promoted this sacrilege.
In response to this outrage against Our Lord and Our Lady, Fr. Martin tweeted:
"... it is not surprising that they would add their own symbol, the rainbow, in a respectful way, to a beloved image of their mother."
Faithful Catholics must be concerned about what Fr. Martin is promoting and be willing to make acts of reparation. May Our Lady and Our Lord accept this act of prayerful reparation.