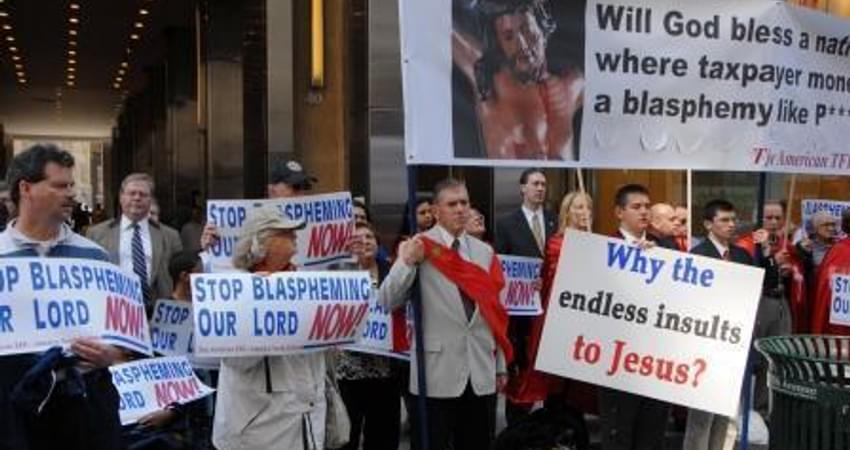 Serrano's "P*** Christ" Protested in NYC: insult Jesus, but not Muhammad
Members of the American TFP and America Needs Fatima prayed the Rosary and offered public reparation and protest against the "P*** Christ" blasphemy by Andres Serrano in front of the Edward Tyler Nahem Art Gallery on 57th Street in New York City on September 27.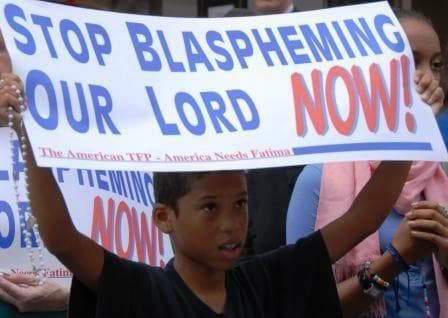 The offensive exhibit shows a crucifix immersed inside a jar of urine. "It's not art, but blasphemy," said TFP Student Action Director John Ritchie. "It's a symptom of out culture's spiritual rot and it's shameful that world leaders issue verbose statements in defense of Muhammad, while remaining silent about this crude insult against the Sacred Person of Our Lord Jesus Christ. In fact, the offensive piece received $15,000 from the National Endowment of the Arts, which includes tax payer dollars. How is that for a double standard?"
Although the protest could not have been more visible and vocal, the Huffington Post claimed that "no one from the right [was] in sight."
Because of the scaffolding on the sidewalk of the gallery, some of the protesters stood across the street while others placed themselves directly in front of the establishment in peaceful protest, displaying signs, banners and praying the rosary. The signage proclaimed a common conviction among those present: Catholics must console Our Lord for such a terrible insult and make reparation.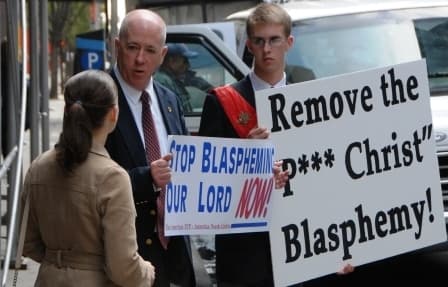 "Why is the Catholic Church always singled out for attack?" asked a police officer who monitored the protest. "It's outrageous," he said. Similarly, most of the passersby were sympathetic with the protest and disgusted by the "artwork."
May the Blessed Virgin Mary hear our prayers and listen to our acts of reparation and intercede with Her Divine Son to bring an end to the terrible wave of blasphemies that afflict America. As the great Saint Jerome stated: "A dog may bark in his master's defense, and am I to stand by silent when God's holy name is blasphemed? I would sooner die than forbear to speak."