Rosary Prayer Tour Reaches Arkansas and Oklahoma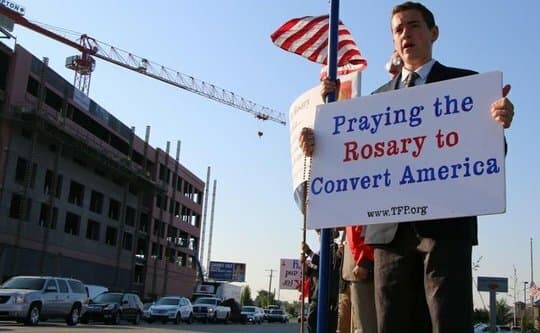 Report from July 20, 2016

Eureka Springs is a small town in a beautiful part of Arkansas. The downtown area, however, is very liberal. We campaigned at a T intersection where everyone going in or coming out of the city passes. The clear majority of drivers were very supportive.

High Support in Harrison
A woman came up to us during the campaign to say that she is scared of the direction our country is going. She was happy to see such a positive action being done and said another woman was saying bad things about us in the store. So she felt the need to come over and tell us she supported us. She didn't have a horn and therefore couldn't honk.
If support in Eureka was good, the support in Harrison was excellent, the best we have had the whole caravan. This is interesting considering it is mostly Protestant. Even though we prayed the rosary, had a picture of Our Lady on the banner, people were very enthusiastic.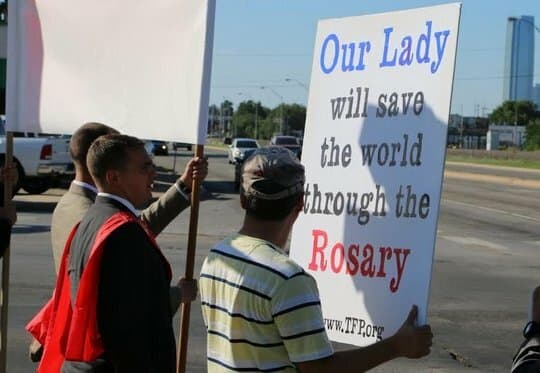 Heading West
July 21, 2016

We headed west to Oklahoma City, Oklahoma, and did a short rosary rally in the city that has become notorious for its public acts of Satanism. Another satanic Black Mass, together with a direct attack against Our Lady, is scheduled on public property on August 15, 2016.
(You can join the protest here).

Here we met with a local America Needs Fatima rosary rally captain, Mr. Jaime Z. When he saw our capes, he immediately said, "Oh, you are TFP too! Great. I've known the TFP since I was in Colombia." He arranged for a man to make us dinner who was not even Catholic.
Next Stop: Amarillo. Pray for us.