"Unity Week" at St. Joseph's University Puts Pro-Homosexual Agenda First

Moral values are once again under assault at St. Joseph's University. Since 2001, the Jesuit university in Philadelphia has been sponsoring Unity Week, a pro-homosexual event first dubbed Rainbow Week.
This year Unity Week will sponsor speakers and events that are in direct conflict with the Catholic moral teaching and the mission statement of the university, which affirms:
"The Catholic character of Saint Joseph's University springs from its historical relationship with the Roman Catholic Church, and from its current embodiment of the great traditions of Catholic life and culture. For this University, Christ and the Church are sources of truth, guides and inspirations for life."

However, according to the 2011 Unity Week schedule posted on the university's web site, the following disturbing activities are planned from October 23—28:
Photo Exhibit: "You Are Not Alone." This exhibit features lewd images of same-sex couples posing in provocative, immoral attire.

Film: Out of the Silence. This film is about a same-sex wedding that "will challenge you to rethink your values…"

Pro-homosexual speaker: Will Sheridan, an open homosexual athlete, will tell students about his "coming out" .
In previous years, Unity Week has promoted:

R rated movies such as Brokeback Mountain and MILK;
"Transgender woman," Isis King;
Homosexual activist Darren Manzella, advocate of open homosexuality in the U.S. Military;
A talk by Shawn Decker, a pro-homosexual activist who promotes "safe-sex" and contraception among college students;
A presentation by the Philadelphia Gay Men's Chorus, titled "Brotherly Love;"
A talk by Shiva Subbaraman, director of the LGBTQ Center at Georgetown University;
The Log Cabin Republicans;
"Rainbow Week Liturgy: A Eucharistic Celebration of Unity"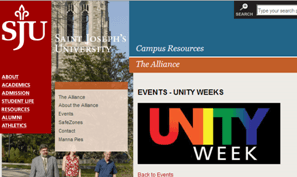 Although university officials at St. Joseph's might claim that Unity Week is only meant to facilitate "dialogue," the evidence suggests otherwise.
For example, the student newspaper The Hawk features a pro-homosexual "Out on Campus" section. In one issue, graduate student Katie MacTurk said: "Once you see someone come to a Unity Week event, once you see someone with that Unity Week pin, once you see someone being friends with someone that's gay and knowing that they're gay and being supportive of that, it's like 'oh okay, that's okay.'"

In 2004, Bishop Joseph P. McFadden, a St. Joseph's alumnus, opposed Rainbow Week. "While the Church asks that we recognize the unique dignity of every human person, it does not mean supporting a lifestyle that is contrary to the natural law," he said to The Catholic Standard & Times.

Unity Requires Truth

"This event is a scandal. There's no unity without truth," said TFP Student Action director John Ritchie. "And Unity Week is more about disunity from Church teaching than it is an effort to favor true unity based on the principles of our faith. This event invites the wolves to confuse and scatter the flock -- Catholic college students -- and that's unacceptable."
"In our dark days, homosexual sin, ever abhorred by the Christian conscience, finds prominent apologists within Catholic universities," Ritchie continued. "However, Sacred Scripture and the Magisterium have condemned few sins more consistently or severely."
TFP Student Action invites its members and subscribers to contact the president of St. Joseph's University and respectfully call for the cancelation of the pro-homosexual Unity Week. Your voice as a student, alumni, or concerned parent or individual is important in the peaceful struggle for moral values.

St. Joseph's University
Fr. Timothy R. Lannon, S.J.
Office of the President
5600 City Ave.
Philadelphia, PA 19131
Phone: 610-660-1200
Email: presid[email protected] or [email protected] (Please be polite and respectful)
Archdiocese of Philadelphia
222 North 17th Street
Philadelphia, PA 19103-1299
Phone: 215-587-3600
Receive free updates of our TFP newsletter now.