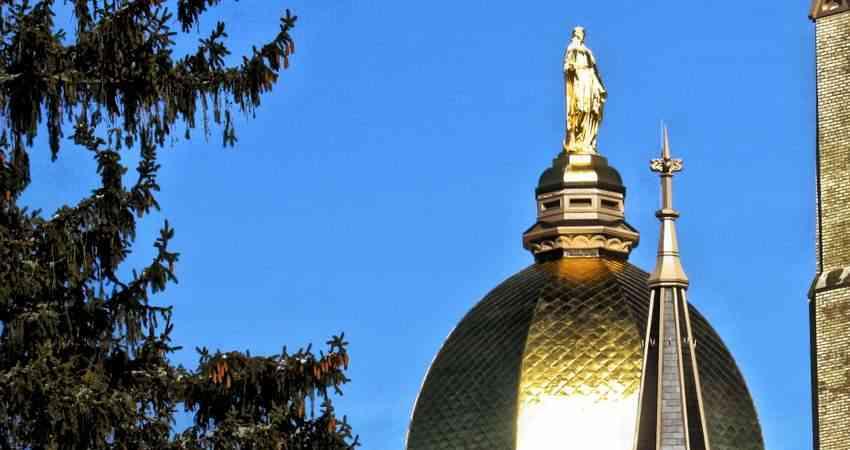 Notre Dame Endorses Pro-LGBT Film Festival Despite Bishop's Condemnation
In yet another case of the moral insanity infiltrating American Catholic universities, the University of Notre Dame has decided to allow the revival of its pro-homosexual film festival, which has been dormant for over a decade.
Over the course of four days – from October 1 to 8 – five films are scheduled to show in the university's DeBartolo Performing Arts Center.
Not surprisingly, the films themselves are essentially vehicles of propaganda for homosexuality and gender theory. What adds to this outrage, though, is the fact that at least one of the films (XXY) contains blatantly pornographic scenes.
How could the university possibly justify such an egregious event?
According to Anne Jarrett, a sophomore who acts as Title IX commissioner of the Student Government, it's part of an "intellectual" effort "to start conversation and introduce some of these issues to our campus… Not only are we rebranding it to make sure that it's more academic, but also not just focused on America… [W]e are a research institution, we care about finding truth and finding out important things about issues around the world… We're doing this because these are important, interesting films, and we want people to see them." [emphasis ours]
The immoral film festival is not merely the initiative of a group of students, but one supported by various departments of Notre Dame, as the university's "Gender Studies Program" website indicates.
What is clear is that there is nothing truly academic about this. It's merely another attempt by the slaves of the cultural zeitgeist to foist the degeneracy of the LGBT movement onto the students of Notre Dame.
The big question is this: How can Notre Dame consistently propagate ideas and lifestyles so blatantly contrary to Catholic doctrine and still claim to be a Catholic institution in good standing?
To hide behind the argument of academic freedom is not honest. This issue is unequivocally dealt with in the Catechism of the Catholic Church. What's more is that a previous iteration of the event, called Notre Dame Queer Film Festival, was condemned by the Most. Rev. Bishop John M. D'Arcy, the late bishop of the Catholic Diocese of Fort Wayne-South Bend, Indiana, who said the event was "an abuse of academic freedom."
TFP Student Action encourages all readers to take a peaceful stand against this latest example of spiritual, moral, and intellectual rot infecting Catholic campuses by signing the following petition:

Stop LGBT "Film Festival" at the University of Notre Dame
While the homosexual movement is free to promote its agenda on campus, advocates for moral values have not been given the same freedom. When Notre Dame students sponsored TFP Student Action on their campus in 2014 to promote traditional marriage, university officials quickly told the police to shut down TFP's moral values display (see the video).
Despite having permission, Notre Dame officials called in the police to shut down TFP's table on campus. After securing permission a second time, the police were called in again with a "cease and desist" order. Even the police officers themselves couldn't fully understand why the administration was so aggressive.
Bottom line: The more you hear about inclusion and diversity in higher education, the less you hear about the truth. And God is no longer welcome on some "Catholic" campuses.
Nevertheless, faithful Catholics must proclaim the truth with charity and holy boldness, just like the Saints who came before us.