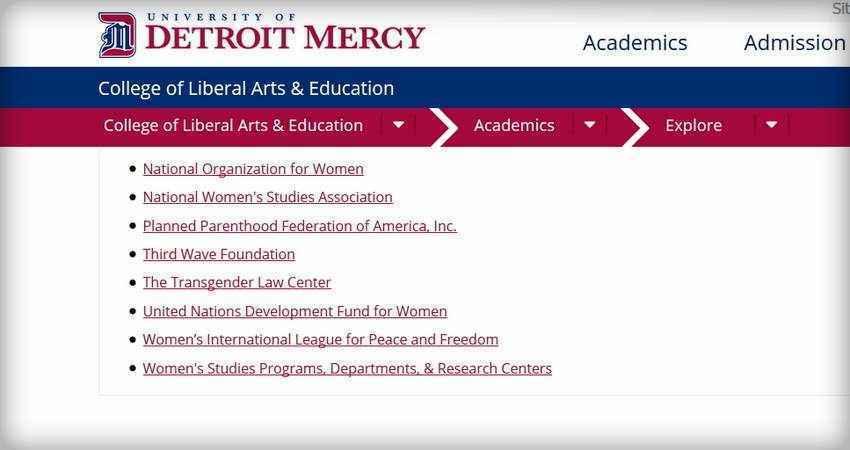 Catholic University Links to Planned Parenthood
The Catholic University of Detroit Mercy in Michigan is currently listing the mega abortion provider -- Planned Parenthood -- as a "resource" for students. The online entry is raising concern among young Catholics who believe in the God-given, inalienable right to life, which naturally extends to the unborn.
TFP Student Action has launched a petition calling for the removal of Planned Parenthood and other pro-abortion and pro-transgender advocacy groups listed by the university's Women's and Gender Studies department under "Online WGS Resources."
"How can a Catholic university favor Planned Parenthood?" said TFP Student Action director, John Ritchie. "In good conscience, we can't stay silent and allow the Culture of Death to poison more young minds. No way. Not on a Catholic campus."
"Instead of featuring groups that attack Church teaching, students should be given the names of honorable pro-life organizations that faithfully defend the unborn," continued Ritchie. "And there are so many to pick from."
Planned Parenthood is not the only pro-abortion group listed by the University of Detroit Mercy. Others include the National Organization for Women (NOW), Amnesty International-USA, Feminist.com, Institute for Women's Policy Research, and Transgender Law Center.
"Take note," said Ritchie, "the pro-transgender and pro-abortion advocates are on the same ungodly team -- working overtime to dismantle the family and deny the right to life."
TFP Student Action invites pro-lifers to join its peaceful protest and call for the removal of all pro-abortion and pro-transgender groups currently listed online by the University of Detroit Mercy.
"You don't need to be a college student to participate," said Ritchie. "With God's help, the truth will prevail."
Sign your petition to remove these pro-abortion listings
Contact information (please be firm yet polite):
Dr. Antoine M. Garibaldi
President, University of Detroit Mercy
Call 313-993-1455
Email [email protected]
Executive Assistant: Lisa MacDonnell
Special Assistant: Cassandra Wadley