A Story of Exceptional Valor and Faith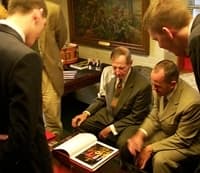 As Col. John W. Ripley (USMC Ret.) politely invited my colleagues from Tradition, Family and Property Student Action and me into his office on October 31, I felt tremendously honored to meet one of America's greatest living war heroes -- a man who served in active duty for thirty five years in the U.S. Marine Corps.

Before serving two tours in Vietnam, he completed scuba, Ranger, airborne and jump master training. He was also an Exchange Officer to the British Royal Marines, during which time he participated in a Northern Malaysian campaign with the famous Gurkha Rifles.
One Marine Cripples North Vietnamese Invasion
Col. Ripley is most famous for blowing up the bridge at Dong Ha in Vietnam. He accomplished this act of epic heroism after three days of intense combat, without any food or sleep. A few sips of water from his canteen provided his only sustinence. This superhuman feat crippled the 1972 North Vietnamese Easter invasion which ended in defeat. Thus, the government honored Col. Ripley's leadership, heroism and self-sacrifice at Dong Ha with a Navy Cross, America's second highest military decoration.
Col. Ripley is also a man of faith. He attributes the destruction of the Dong Ha bridge to the grace of God and the Blessed Virgin Mary. He related how he felt all physical strength evaporate while placing explosives under the bridge. To continue, he composed a simple ryming prayer: "Jesus, Mary, get me there… Jesus, Mary, get me there…" H repeatedly said this prayer on the bridge and a supernatural assistance came to his aid at a much-needed time. He stated: "This aid was tangible. It was all-consuming." His mission would have been impossible without it.

After this operation, Col. Ripley's mission was far from over. Unlike Hollywood movies, in which a bridge blows up and everyone lives happily ever after, the North Vietnamese found an alternate route. During the next days of fighting, Life Magazine published a famous picture of Col. Ripley running as a mortar round blows up nearby. He showed us this amazing photograph during our meeting and many other war relics.
Chivalrous Behavior for a Fallen Soldier
Pointing to his picture, he recounted its exciting story. As the enemy approached within yards, he loaded the dead bodies of five news correspondents into an armored personel carrier, putting himself in harm's way. Then the armored personnel carrier left without him.


He was stranded with the limp, lifeless body of his radio man. As the enemy drew closer, he refused to run for cover. Like the knights of old, he preferred to die rather then abandon his fellow soldier's body. He would not leave his radio man behind even though he was in clear view of the advancing enemy.

He picked up the body of his radio man and walked away very slowly, expecting a bullet to hit him at any moment. Suddenly, some South Vietnamese bodyguards or "cowboys," as he called them, popped up over a ledge about 100 meters away and addressed him by his Vietnamese nickname, which meant "Captain Crazy." They told him to duck while they sprayed cover fire allowing him to make a desperate 100-meter dash for safety. Smiling, Col. Ripley recalled how he ran those 100 meters in 3 seconds!
The Four Bullets
While showing us some of his war relics, he pulled something out of his pocket. It was a brass-colored safety pin that connected four bullets. Grinning, he said: "I am personally acquainted with three of these." One bullet pierced through the deck of the chopper in which he was flying and struck a magazine clip on his ammo belt, barely stopping its entry into his abdomen!

"When I'm having a bad day," he said, "I pull these out of my pocket and say to myself, no, it's not that bad… I'm not having such a bad day."

He also showed us a neatly arranged collection of stamps he had acquired from a captured North Vietnamese postal worker.
What Is True Leadership?
The most interesting part of our meeting was when Col. Ripley explained the essence of a true leader is one who sets the example and shows his troops how to act, rather than tell them what to do from a desk and ask them to report back. Col. Ripley is one such leader. He never shied away from action, but always preferred to be on the front lines with his men.

In addition to being deadly on the battlefield, this tough marine is also lethal in the realm of ideas. After hearing about the TFP Student Action debates on university campuses, he described the wonderful time he had appearing on Crossfire to debate a female Air Force general defending the need for women in the military. She could not stand up against the bulletproof logic of Col. Ripley's real life combat experience.
Tribute, Respect and Admiration
Col. Ripley deserves our tribute, respect and admiration.

He taught us that to be a true leader one must have faith in God and Our Lady. He explained how being a leader means setting the example. Moreover, his heroic actions at Dong Ha speak even louder than his words.

It was truly an honor and privilege to meet this model soldier, a man with profound zeal for the Catholic Church and high ideals for which he is willing to give his life. My TFP colleagues and I will never forget him.