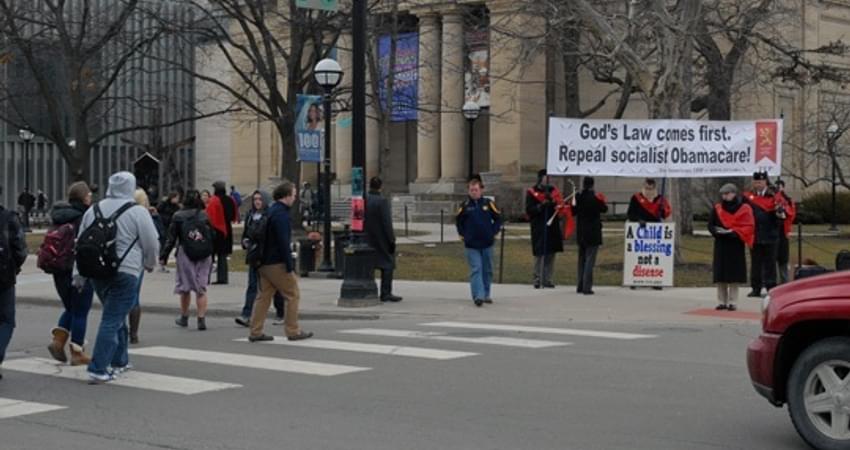 Challenging the Left at the University of Michigan
Ann Arbor, Michigan
Cold weather notwithstanding, today's campaigns were intense. Fliers ready, bagpipes tuned, and logical, sound arguments, prepared, we came into Ann Arbor, to the campus of the University of Michigan. Some say Ann Arbor is the Berkeley of Michigan. Setting up right in the middle of the campus, we were immediately confronted with a polarized public, but Berkeley is far worse.
One woman stopped and said: "Thank you so much for being here, tell everyone in your group 'thank you,' and keep up the good work!" After a short time a police officer arrived to make sure everything was in order. "I can see that you won't cause any trouble, but let me know if anyone gives you trouble," he said, and returned to his car. A few moments later, an upset liberal man threatened to call the police. "You shouldn't have the right to do this," he said. After being informed that we had already spoken with the police, he demanded to see our authorization. When asked what authority he had, he shot back: "don't ask me any questions!"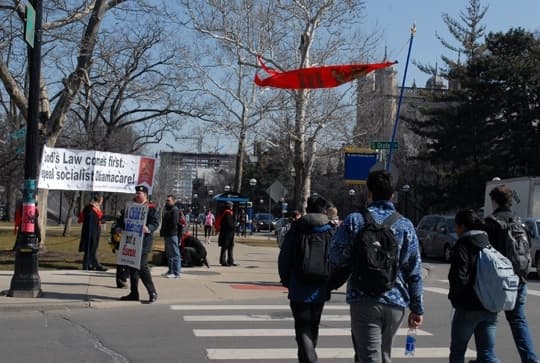 Subscribe to our weekly TFP newsletter for free.
As the campaign continued, support and opposition intensified. One student, after reading our flier, returned to thank us and ask how he can get involved in the fight against Obamacare. Another student pointed out how Catholics are being targeted: "I don't think the federal government would force mosques to serve bacon," he said.
"God doesn't want you to do this out here," a passerby affirmed. "God believes in freedom of choice." When asked where the "choice" is for Catholics, he replied: "Well, you got me there. That's a good point."
After wrapping up the university, we finished off the day with a sign and wave campaign at the third busiest intersection in the state of Michigan.

Next destination: Detroit.