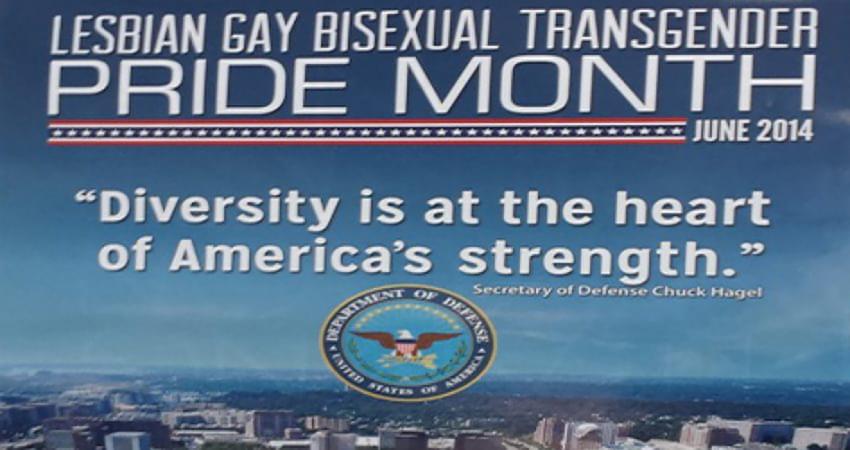 Veteran Affairs Worker Forced to Look at LGBT Poster Display
Here is another reason to pray and fight for moral values in America.
One of our readers sent us a message which illustrates how the homosexual movement is pushing feverishly to normalize unnatural vice within the Armed Services. It is unclear how many Veteran Affairs offices are displaying these posters, but those who have high moral standards, and object and speak up against them will not likely be on the receiving end of "tolerance."
How many bakers and florists were put out of business because they refused to violate their conscience?
Here is the message:
"On the topic of the homosexual agenda, I am a dentist at the VA [U.S. Department of Veteran Affairs] in (name withheld). Yesterday as I was leaving work, I noticed a poster display inside the building that read 'Lesbian Gay Bisexual Transgender Pride Month. Diversity is at the heart of America's strength.'
"As a Catholic, I am deeply offended at this. A government workplace condoning the homosexual agenda! What can be done about this? I should not be forced to look at this everyday as I come to work! I have attached a photo of the offending poster display."
Is the poster paid for with American tax dollars? Probably, given that the White House issued a Presidential Proclamation earlier this month, declaring June a "Lesbian, Gay, Bisexual, and Transgender Pride Month."
"During Lesbian, Gay, Bisexual, and Transgender (LGBT) Pride Month," the White House statement reads, "we celebrate victories that have affirmed freedom and fairness, and we recommit ourselves to completing the work that remains.... Our commitment to advancing equality for the LGBT community extends far beyond our borders."
For the homosexual movement, the destruction of natural marriage of husband and wife is one of those "victories," as is teaching young children to accept homosexuality.
Let us continue to fight for a culture in America that is free to embrace virtue and reject vice.