St. Junipero Serra Under Attack at Stanford University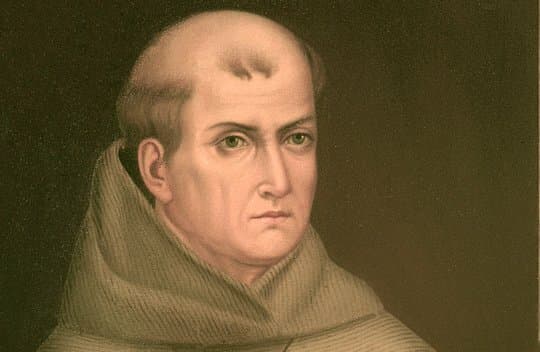 Catholics across the United States rejoiced this past September when His Holiness Pope Francis canonized the first Spanish-American saint, Fr. Junipero Serra y Ferrer, O.F.M. In the words of Pope Francis, St. Juniper Serra "was one of the founding fathers of the United States, a saintly example of the Church's universality and a special patron of the Hispanic people of the country."
Not everyone, however, shares this sentiment.
Serra vs. Stanford
For the past few years, there have been movements throughout the nation to remove any public references or honors for St. Junipero Serra.
One of the most recent examples of this is the attempt at Stanford University to remove his name from dorms, academic buildings, and a street. Students at Stanford, inspired by the so-called "Black Lives Matter" movement, have said that it is "important for the university to recognize that we need to reinvest and appropriate these spaces in the names of indigenous people."
According to San Jose Mercury News, "On March 3, the [Stanford] university's Faculty Senate voted to unanimously approve a motion acknowledging the ASSU's resolution to rename Serra Dorm, Serra House, Serra Street and the university's address, 450 Serra Mall.
"Leftist students at Stanford assert that St. Serra "exploited" Native Americans and would like to expunge his holy name from history. They falsely accuse him of establishing missions where Spanish soldiers supposedly raped Indian women with impunity. Like nearly all liberal causes, these accusations do not stem from any genuine concern for the welfare of American Indians. Rather, they are motivated primarily by hatred for the Catholic Church and its missions, which had a dual purpose: to Christianize and to civilize.
Natives Speak Out
Many American Indians today hold St. Serra in veneration for his heroic actions on behalf of their ancestors.
According to Tony Cerda, chief of the Rumsen/Ohlone people (Carmel Mission Indians,) "[H]e [Junipero Serra] protected our people and supported their full human rights against the politicians and the military with a total disregard for his own life and safety."
On the eve of his ordination, Fr. Jerome Nieblas – the first Juaneno Indian to be ordained a priest – said, "Father Serra brought our people to this day. I think Serra would be proud… the [canonization has the] full support and backing of the Juaneno people."
To archeologist Ruben Mendoza, who is of Mexican and Yaqui Indian descent, St. Serra was essential in the creation of modern-day California.
"Serra endured great hardships to evangelize Native Californians. In the process, he orchestrated the development of a chain of missions that helped give birth to modern California… The missions were not slave plantations… They were communes in which friars and Indians worked side by side and consumed the products of their labor."
Not surprisingly, Mr. Mendoza has come under fire from the supposedly tolerant historical revisionists who work hard to tarnish St. Serra's reputation.
"When I don't go along with the idea that the missions were concentration camps and that the Spanish brutalized every Indian they encountered, I'm seen as an adversary… Yet we are beneficiaries of this man who believed that poverty, chastity and obedience would open the gates of the kingdom of heaven to Native Californians."
Leftist Politicians Attack St. Serra
Opposition to St. Junipero Serra is not just limited to college campuses. In California, State Senator Ricardo Lara (D – Bell Gardens), an open homosexual, has been working to have St. Serra's statue at the U.S. Capitol rotunda removed and replaced by another homosexual, former astronaut Sally Ride.
Fortunately, he has been criticized by California Catholics who defend Fr. Serra's legacy.
The Movement to Rewrite History
It is important to understand that this movement goes far beyond erasing the memory of St. Serra; it is part of a larger effort to damage the reputation of the Catholic Church and Her evangelizing mission and rewrite our nation's history in the false, secular image of political correctness.
Many of the nation's top academic institutions have jumped on the bandwagon. At the University of California - Irvine, students reported being "triggered" last year by the American flag and unsuccessfully attempted to have it removed because they considered it offensive to immigrants and minorities.
The Black Student Union at the University of California - Berkeley made demands that the university rename a building on campus known as Barrow's Hall and replace it with that of Black Panther member, convicted cop-killer, prison escapee Joanne Chesimard.
The figures promoted by liberals as alternatives to Catholic heroes such as St. Serra are almost all terrorists, murderers, or adherents to radical or subversive movements. These historical revisionists are willing to use any artifice, including deceit, to eradicate the golden pages of history that document the glorious deeds of heroes such as St. Serra, who brought Christian Civilization to this part of the New World and created the conditions for it to flourish for the benefit and salvation of so many souls.
Tell Stanford University Not to Erase St. Serra's Name
Contact: Dr. John L. Hennessy
Office of the President
Stanford University -- Building 10
Stanford, CA 94305-2061
Phone: (650) 723-2481
Fax: (650) 725-6847
Email: [email protected]