Mission Accomplished, Thank God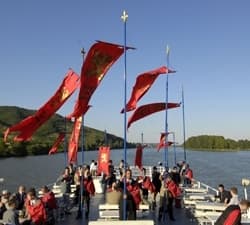 Opposing the Lewd V-Monologues
January 2010 – TFP Student Action mobilized its members to protest against the vulgar V-Monologues play at DePaul University in Chicago, America's largest Catholic university.
TFP Volunteer Assaulted: Video Clip Tells Story
January 2010 -- While rallying for traditional marriage at the New Jersey Statehouse on January 7, TFP member Elias Bartel, 21, was assaulted by a woman wearing a blue "equality" t-shirt.

March for Life & TFP Student Conference
January 2010 – College and high school students gathered at TFP headquarters for a conference before attending the 300,000-strong annual March for Life in Washington, D.C. with great enthusiasm.

Victory! Planned Parenthood as 'Career Path' Deleted
February 2010 – Catholic Rosemont College listed Planned Parenthood on its web site under "career paths and opportunities" for students. TFP Student Action protested successfully.

TFP at CPAC
February 2010 – With 10,000 participants, the Conservative Political Action Conference (CPAC) is the largest annual conservative conference in America. TFP Student Action members promoted moral values at this conference with a booth and distributed 4,000 flyers against open homosexuality in the military.

Video: Winning the Abortion Debate
March 2010 -- TFP Student Action volunteers welcomed the challenge of campaigning against abortion at George Washington University. Their mission was simple: Defend innocent life. See the video here.

Abortion Scandal at Jesuit University
April 2010 -- Planned Parenthood and the National Organization for Women (NOW) were listed on the web site of the University of Detroit Mercy – a Catholic institution. TFP Student Action launched a successful protest.

Homosexual "Jesus" Play
March 2010 -- Right before Holy Week, Tarleton State University in Texas planned to stage the blasphemous play Corpus Christi. This adult-content play portrays Our Lord and the apostles as homosexuals. TFP Student Action protested successfully.

Demonstration for True Marriage
March 2010 -- TFP volunteers rallied for God's marriage at the Pennsylvania Statehouse as members of the State Senate Judiciary Committee convened for an important vote on the Marriage Protection Amendment.

Victory: University Cancels "Corpus Christi" Blasphemy
March 2010 – After TFP Student Action launched its peaceful protest, Tarleton State University effectively pulled the plug on the offensive play.


Blasphemy at Gallaudet University Opposed
April 2010 -- Gallaudet University in Washington, D.C. scheduled the blasphemous play Corpus Christi on its campus. TFP Student Action led a protest against it.
Protesting Pro-Homosexual Events at Notre Dame
April 2010 – TFP Student Action mobilized its members to protest a week-long pro-homosexual event at the University of Notre Dame, which featured a lecture titled "Homosexuality Under the Dome" and a "Day of Silence."
Jesuit University Deletes 2 Abortion Links
April 2010 – After weeks of peaceful protest, the Catholic University of Detroit Mercy removed two links to abortion provider Planned Parenthood that were listed on its web site. Over 11,500 petitions were collected.
Anti-Catholic Cartoon Targets the Pope
April 2010 -- Le Monde Magazine in France published a cartoon showing the "Pope" sodomizing a little boy. TFP Student Action issued a protest.
Comedy Central Mocks Our Lord
May 2010 -- TFP Student Action urged Comedy Central to cancel the production of a new cartoon series called JC that mocks Our Lord Jesus Christ. Thousands of TFP Student Action members participated in this effort.
Stalin Sculpture at D-Day Memorial Dishonors Heroes
June 2010 -- Should a bust of mass-murderer Joseph Stalin stand right beside American heroes at the National D-Day Memorial? Thousands of TFP Student Action members called for the statue's removal.
Catholic College Links to 10 Abortion Advocacy Groups
June 2010 -- The Alverno College Research Center for Women and Girls (RCWG) listed ten abortion advocacy organizations on its web site. TFP Student Action called for their removal.
Professor FIRED for Being Catholic
July 2010 -- The University of Illinois fired a professor for articulating Catholic moral teaching. TFP Student Action generated thousands of protest emails.
Victory: Catholic Professor Reinstated
July 2010 -- The University of Illinois at Champaign-Urbana confirmed that it will once again allow Dr. Kenneth Howell to teach on Catholicism after recently firing him for explaining Catholic moral doctrine to his class. Victory!

Chivalry Inspires a New Generation at TFP Camp
July 2010 – TFP Student Action volunteers coordinated Call to Chivalry camps in both Louisiana and Pennsylvania. The ten-day adventures inspired boys to live the ideals of Catholic knighthood.
Prayer Vigil to End Abortion
August 2010 – At the largest Planned Parenthood abortion facility in America, TFP members defended innocent life and prayed for the end of abortion.
Caravan against Socialism in Texas
August 2010 – The American TFP and TFP-Louisiana kicked off a new caravan in Texas. Our tour visited major cities in the Lone Star State with the clear goal of alerting the public about the growing dangers of socialism in America.
Seton Hall University Betrays Catholic IdentitySeptember 2010 -- Seton Hall University started a pro-homosexual course on "The Politics of Gay Marriage." Thousands of TFP Student Action members called for its cancelation.
No to NYC Mega Mosque
September 2010 -- TFP Student Action volunteers joined a huge rally one block from Ground Zero in New York City against the "Victory Mosque" and remembered the victims of 9-11.
Victory! Planned Parenthood Link Gone
November 2010 -- Boston College Law School – a Catholic institution – has removed Planned Parenthood from its web site after a TFP Student Action protest generated 7,100 email and phone calls.
Rally for Troops at Fort Benning

November 2010 – For the fifth year in a row, TFP Student Action volunteers have made the trek from Pennsylvania to Fort Benning in Columbus, Georgia, to oppose the socialist SOA Watch protest there and support our troops.
Research Finds Homosexual Movement at 101 Catholic Colleges
December 2010 -- After careful research, the TFP survey discovered that 101 (41%) of Catholic universities and colleges currently list pro-homosexual student clubs on their web sites. Among Jesuit-run universities, however, the number increases to 100%.

Please help us continue in 2011 with a donation. Thank you!