Obamacare's Contraception Mandate Sparks Huge Protests
The controversy over socialist Obamacare and its HHS Mandate is now pouring out onto the streets. "We will not comply! – We will not comply!" echoed across Capitol Hill as hundreds of God-fearing Americans demonstrated outside the Health and Human Services building in Washington, D. C.
On March 23, Catholics and pro-life groups in 140 cities—including New York, Chicago, Philadelphia and San Francisco—gathered at federal buildings nationwide to defend the freedom of the Church. Twenty two Catholic bishops and other public figures spoke at these rallies, attracting more than 50,000.
Organized by Citizens for a Pro-Life Society and the Pro-Life Action League, the rallies opposed the mandate issued by the U.S. Department of Health and Human Services that requires all employers to provide free contraceptives, sterilization and abortion-inducing drugs through their health plans.
"With the HHS Mandate, the Obama administration has presumed upon itself the authority to decide what counts as a religious institution in this country," said Eric Scheidler, executive director of the Pro-Life Action League. "This is an unprecedented attack on the free exercise of religious faith protected by the First Amendment."
"We are calling on all people of good will to rise up and vigorously oppose this ruling," said Monica Miller, director of Citizens for a Pro-Life Society. "Truly, we see that the Church is stepping up to the social and political attacks on faith that seek to send Christians (and all people of faith) back to the catacombs."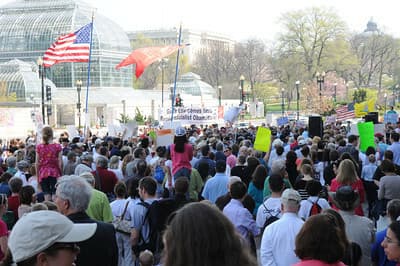 TFP Student Action members joined the Washington, D.C. rally with banners and signs. Speakers at the event included Fr. Marcel Guarnizo; pastor Patrick Mahoney, Director of Christian Defense Coalition; Star Parker, founder of the Center for Urban Renewal and Education; Lila Rose of Live Action, and Kristan Hawkins, Director of Students for Life of America.
May God protect the freedom of the Church in America.