Updated: Catholic University of St. Thomas Offers 'internship opportunities' with Planned Parenthood
Update on 12-11-14: Good news. Planned Parenthood has been removed. Yet we are still waiting for the removal of three other pro-abortion groups.
Here are the ones that remain: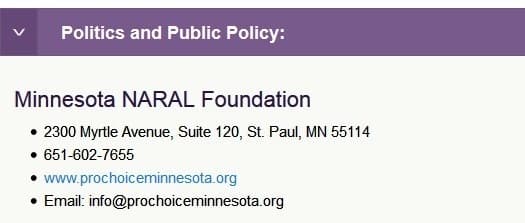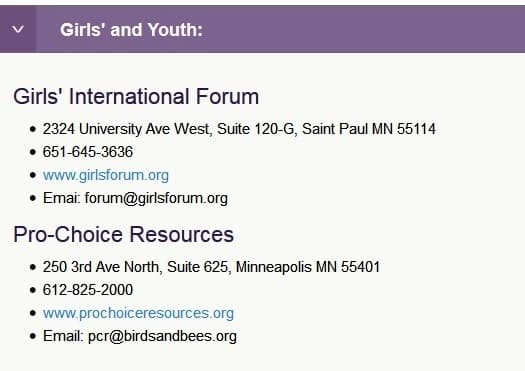 Again, listed under "legal services," is NOW, the National Organization for Women.


Students at the University of St. Thomas in Minnesota – a Catholic institution founded in 1885 – are currently being offered "volunteer/internship opportunities" with mega-abortion provider Planned Parenthood, according to the university's web site. The online listing is raising concern among young Catholics who believe in the God-given, inalienable right to life, which naturally extends to the unborn.

Help us by sharing
our work for moral values
This scandal is all the more shocking given Planned Parenthood's record of illegal activity, documented and exposed again and again by Live Action's undercover video investigations. Planned Parenthood pushes promiscuous behavior to perpetuate its industry of death.

However, Planned Parenthood is not the only group listed. Other pro-abortion advocacy organizations are also featured by the university as "volunteer/internship opportunities," including NARAL Pro-Choice Minnesota, Pro-Choice Resources, Family Tree Clinic, and the National Organization for Women-Minnesota (NOW). These listings are posted here by the Women's Studies department under "Local Internship Possibilities" and the department of Biology here and here.

Here is a screen shot of some of the listings: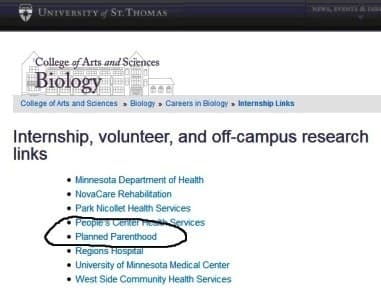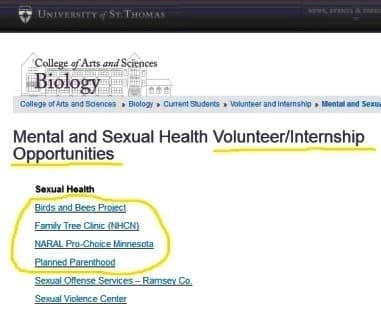 Your instant protest message will go to the president of the University of St. Thomas, Dr. Julie Sullivan, urging her to remove every pro-abortion group on the list of "volunteer/internship opportunities" being offered online by the university."
Inspired by Catholic intellectual tradition, the University of St. Thomas educates students to be morally responsible leaders who think critically, act wisely and work skillfully to advance the common good," reads the university's mission statement. Is that mission being forgotten?"
How can a Catholic university encourage students to work or volunteer for Planned Parenthood and other pro-abortion groups which directly promote the sin of abortion?" asked TFP Student Action director, John Ritchie.
"One thing is crystal clear: In good conscience, we can't stay silent and allow the Culture of Death to poison more young minds," he said. "We can't allow pro-abortion advocacy groups to pose as 'educational' opportunities on Catholic campuses. Instead of featuring groups that attack Church teaching, students should be given internship opportunities with honorable pro-life organizations that faithfully defend the unborn. There are plenty to pick from."
TFP Student Action invites pro-lifers to join its peaceful protest and call for the removal of all pro-abortion groups currently listed online by the University of St. Thomas as "volunteer/internship opportunities."
"Help us spread the word by forwarding this alert to all your pro-life friends (or even your entire address book). You don't need to be a college student to participate," said Ritchie. "With God's help, the truth will prevail."

Contact information (please be firm yet polite):
University of St. Thomas
Dr. Julie Sullivan, President
2115 Summit Avenue
Saint Paul, Minnesota 55105
Phone: (651) 962-6500
Email: [email protected]