Swarthmore College Attacks God with "Queering the Bible" Course. Join the Protest.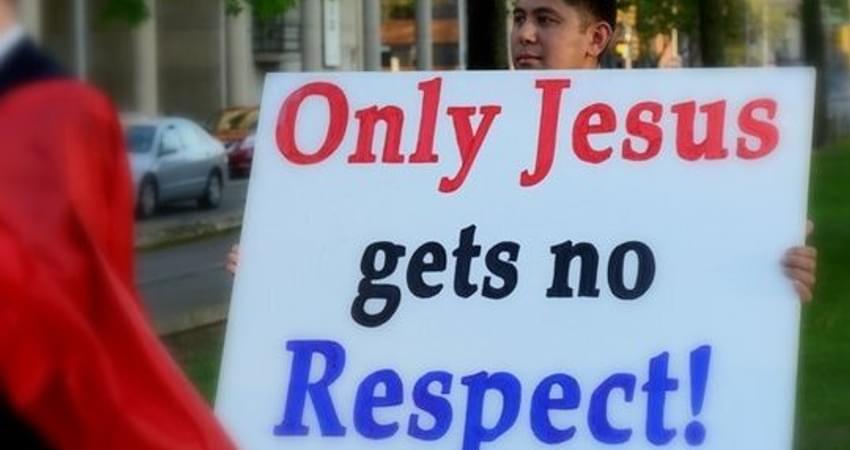 Update: Young Catholics staged at protest at the gates of Swarthmore College.

"Queering the Bible" is a new course offered at Swarthmore College in Pennsylvania for the fall semester.
This is how the college advertises the course: "By reading the Bible with the methods of queer and trans* theoretical approaches, this class destabilizes long held assumptions about what the bible--and religion--says about gender and sexuality."
Another blasphemous course is titled "Queering God: Feminist and Queer Theology." The college web site describes it as an attempt to "stretch the limits of gendering-and sexing-the divine."
Why is God and the Bible singled out for derision by a college that prides itself on so-called tolerance and inclusion?
Please:
Tell Swarthmore College that blasphemy is not -- and never will be -- a feature of true higher learning, but only a symptom of academic decay.
Defend the honor of Our Lord Jesus Christ today. Share this petition.


(Please be firm yet polite in your communications)
Dr. Valerie Smith
President, Swarthmore College
500 College Ave. -- Parrish Hall E236S
Swarthmore, PA 19081
Phone: (610) 328-8314
Fax: (610) 328-8547
Email: [email protected]
Dr. Thomas Stephenson
Provost, Swarthmore College
500 College Ave. -- Parrish 229 West
Swarthmore, PA 19081
Phone: (610) 328-8319
Fax: (610) 957-6167
Email: [email protected]
or [email protected]