STOP Transgender Tyranny at Catholic Villanova University: Sign Your Protest Today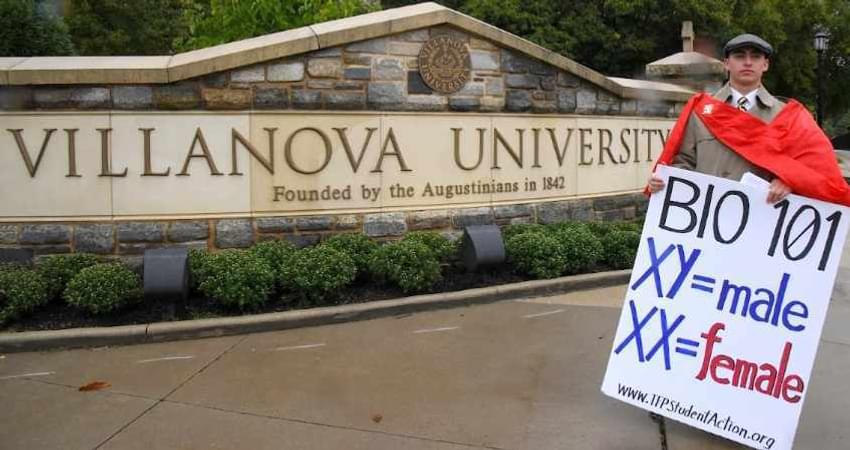 Transgender tyranny has infiltrated the oldest Catholic university in Pennsylvania. Villanova University, founded by the Augustinians in 1842, is now promoting gender ideology.
The Office of Diversity, Equity and Inclusion (ODEI) of Villanova has released a "Gender Inclusive Practices Guide." This guide encourages faculty, staff, and students to choose their "gender," first name and personal pronouns. Not unlike radical communist regimes, the guide fosters self-policing to avoid pronoun usage that aligns with ones God-given biological sex.
Bowing Before Transgender Tyranny
Among other things, this is what the guide demands:
"Remind yourself and others that gender inclusivity is fundamental to Villanova's mission."
"Normalize an inclusive approach to gender by modeling one yourself."
"Incorporate discussions of gender into work or classroom culture."
"Practice pronoun usage."
"Address misgendering."
The pro-transgender guide tells teachers not to use "gender binary" language such as "ladies and gentlemen" when addressing crowds, but to use more "inclusive" language such as "people" or "folks." Instructors are also expected to state their chosen pronouns when introducing themselves.
At this Catholic campus, teachers are assigned the role of gender police. They must become "fluent" in transgender pronoun usage and crack down on cases of "misgendering." In other words, to say a boy is a boy and a girl is a girl might lead to unpleasant consequences under the new transgender tyranny.
"Be up front if you don't know someone's pronouns," the guide states. "Acknowledge mistakes and correct yourself swiftly," and "[I]ntervene when misgendering occurs, whether that person is present or not."
Injecting Gender Theory in the Classroom
Part of the document explains how to inject gender theory into the classroom.
It reads: "If gender is relevant to what you're teaching, then be explicit about these connections and, if possible, teach the research and scholarship of transgender, nonbinary, and gender-nonconforming people."
The outcome is predictable: Gender ideology will be forced upon students in every field of study and discipline as long as transgenderism is loosely "relevant" to the class. Do Villanova professors have the same freedom to promote traditional Catholic moral values in the classroom?
Is Villanova Catholic or Not?
According to the document, "gender inclusivity is fundamental to Villanova's mission."
However, the university's Mission Statement paints a different image: "Villanova University is a Catholic Augustinian community of higher education, committed to excellence and distinction in the discovery, dissemination and application of knowledge. Inspired by the life and teaching of Jesus Christ, the University is grounded in the wisdom of the Catholic intellectual tradition and advances a deeper understanding of the relationship between faith and reason."
If taken seriously, Villanova's Mission Statement automatically excludes transgenderism and its culture of sin. However, by adopting the "Gender Inclusive Practices Guide," Villanova has abandoned its grounding in Catholic wisdom, faith and reason, and embraced the nihilistic, harmful, and revolutionary revolt against nature as God ordained it from the beginning.
Should Villanova University still be called Catholic?
Saint Thomas of Villanova, pray for us!